Battery Systems
A Snowy Colorado Mountain Town's Electric Bus Experience
Bethany Aurin, transportation director at West Grand School District in Colorado, examines how electric buses perform in snowy temps and on rough routes.
Background
Quick Facts:
Kremmling, Colorado, is home to West Grand School District, a small rural school system about 100 miles northwest of Denver in a peaceful Rocky Mountains valley. The district transports 150 students up to 98 miles per day on roads that vary from paved and flat to gravel and steep. 

During the winter, the area can endure harsh subzero conditions, with the average temperature falling between -33 and -18-degrees Fahrenheit during morning commutes. The district transports 150 students up to 98 miles per day.
Deployment
West Grand School District added a Blue Bird Type-D All-American electric bus to its fleet in March of 2020. The bus features Accelera by Cummins PowerDrive 7000 system, which delivers high-efficiency and unmatched power, with module and flexible architecture, maintains existing mounting locations for easy OEM integration, delivers instant torque response, and has a lower total cost of ownership.

To purchase their electric school bus, the West Grand School District was awarded a $301,000 grant from Colorado's share of the Volkswagen Clean Air Act Civil Settlement. Mountain Parks Electric, the local electrical cooperative, contributed $70,000 to the district and Tri-State Generation and Transmission, the wholesale supplier for Mountain Parks, added $50,000. These grants covered the bus cost and the charging infrastructure installation.

West Grand installed a Clipper Creek Level 2 charger at the recommendation of their local Blue Bird dealer, Colorado West Equipment, Inc., and Mountain Parks Electric. The Level 2 charger supports the district's daily routes.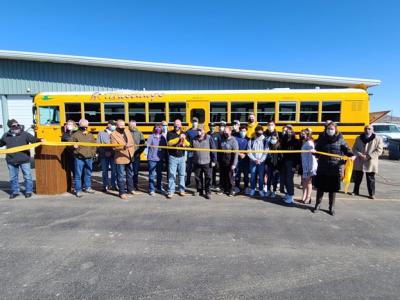 Results
The EV Experience
West Grand School District's positive experience with their Accelera-powered electric Blue Bird school bus includes superior performance in sub-zero temperatures, cost savings, range, and community benefits.
Cold Weather Performance
Temperatures in November and December 2022 averaged between –33 and –18 degrees Fahrenheit. Throughout those two months, the temperature only rose above freezing five afternoons, but remained below 40. Despite these harsh conditions, cabin heat on the bus remained responsive, reliable, and comfortable.  
"The elevation at our bus garage is 7,500 feet, and my route is above 9,000 feet. As the primary driver for our electric bus, I am impressed by its power when it climbs the long and steep Gore Pass on my route. This pass is rarely plowed prior to my use in the morning, and the electric bus's performance has been excellent. Despite poor road conditions, the electric bus has never had any issues." -Bethany Aurin
Cost Savings 
West Grand experienced significant fuel and maintenance savings with the electric bus. During the first year of operation, average charging costs for the electric bus were 26 cents per mile, versus diesel bus fuel costs of 58 cents per mile, which saved the district an estimated 44.8% or $3,633. During that same time, the electric bus required about $104 in maintenance costs, while its diesel counterpart cost about $1,900.
Range
With time to charge the bus between routes, the bus range covered the 78-mile-long morning and afternoon routes. 
"After the morning route, we plug the bus in during school hours and attain a full charge by noon. We use it again midday to transport students between campuses (about four miles).  When it's cold, we park the bus inside again until the end-of-day (p.m.) route. In warmer weather, we leave it outside after the midday use and only plug it in again after the afternoon route." 
Benefits for the Community
Community members praise that the quiet bus does not wake them during the morning routes.
Students like the quiet ride and the lack of emissions and exhaust smells.
Operators like that they can supervise students in the back of the bus because they can hear conversations.
West Grand School District has budgeted for a new bus with the saved maintenance and fuel costs.
"I have been in the school bus transportation industry for almost 25 years and have never been as impressed with any other bus to this extent. My students feel extremely safe and are proud to be in a bus that 'doesn't pollute.' As an operator, I also feel very safe driving a commercial vehicle that handles adverse weather with ice and snow-packed roads so securely." 
Reflection and Lessons Learned
Aurin's only regret is that West Grand bought one bus instead of two buses.
"You have an outstanding product, and I look forward to adding our next Blue Bird EV bus soon."
For other districts in cold weather climates, Aurin recommends drivers maintain at least a 25% charge on the buses, and that districts train drivers to operate the fan as well as get a feel for features such as regenerative braking. The district started the bus on shorter, easier routes and increased its use on longer routes with different terrains as drivers became more familiar with its capabilities.

Aurin hopes more neighboring districts introduce EV buses to their fleets, along with charging infrastructure, allowing the West Grand schools to drive the bus outside the district for field trips and athletic events.

Because the district is in a cold-weather environment, the bus garage already included heating which is ideal for EV buses. The heated garage protects the batteries from freezing temperatures, so the buses are ready to operate immediately in the morning. Operators without a heated garage should learn how to adjust the airflow within the cabin of electric vehicles.
Key Take-Aways
Operation and maintenance of an electric bus versus its diesel counterpart result in significant savings.

The electric bus handles the weather and road conditions better than the diesel buses.

There are many state and federal grant funding opportunities available to help school districts offset the cost of an electric school bus.