Enabling the clean energy revolution – our first 100 days as Accelera
Amy Davis, President of Accelera™ by Cummins, reflects on the first 100 days since Cummins debuted its new zero-emissions technology brand.
Cummins debuted Accelera™ by Cummins, a new zero-emissions technology brand, on March 8. It was a significant step forward in our sustainability strategy and commitment to addressing the climate crisis. Now, 100 days in, Accelera is already fulfilling our mission of accelerating the shift to a sustainable future.

Accelera is a team of engineers, scientists, strategists, and manufacturers dedicated to decarbonizing the most carbon-heavy industries. Our comprehensive range of zero-emissions products includes batteries, electric powertrains, fuel cells, and green-hydrogen-producing electrolyzers. Together, these solutions enable customers to efficiently and effectively decarbonize.

As the President of Accelera, I have seen considerable advancements in clean energy in just the past few months. From progressive policymaking to technology milestones, a lot has happened in our first 100 days as Accelera. Keep reading for my three biggest takeaways. 

Public and customer demand for zero-emissions technology is growing.
Our customers are ready for cleaner power solutions. Since March, my team and I have spoken with customers and partners at events around the world about accelerating the energy transition, highlighting a clear link between sustainability solutions and consumer demand.  

At the panel Accelera hosted at SXSW, McKinsey's Hyperscaling Green Businesses Summit, and the ACT Expo, where I gave a keynote address, I had the opportunity to discuss with industry experts the importance of working together—companies, governments and consumers—to develop and deploy clean energy solutions.  

From trade show floors to roundtable discussions, our experts across the globe have shared how a broad range of technologies are needed to facilitate customers' unique decarbonization journeys. The positive responses I've heard indicate that customers want these solutions, recognize the value of technology choice and appreciate the flexibility our portfolio offers.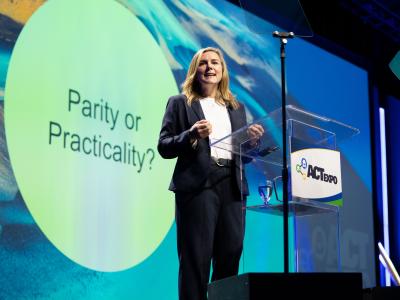 Amy Davis, President of Accelera by Cummins, gives the keynote speech at ACT Expo in Las Vegas, Nevada on May 3, 2023.
Clean energy policy is progressing globally, but infrastructure investments must accelerate.
To realize a decarbonized economy, investment in hydrogen and electric vehicle infrastructure – and the renewable energy to power it – must dramatically increase. We need the government policies to support and incentivize this infrastructure buildout before a zero-emissions future is within reach. 
In the United States, the Bipartisan Infrastructure Law (BIL) and Inflation Reduction Act (IRA) have opened up green hydrogen production opportunities. The Biden Administration's hydrogen strategy and roadmap further demonstrate that we're getting serious about a net-zero future. Since the signing of the BIL and IRA, Accelera has received committed orders for nearly 300 megawatts of electrolyzer projects in North America. In total, these projects will produce approximately 150 tons of hydrogen per day once commissioned by the end of 2026. To put that into context, 1 ton of hydrogen can power 60 transit buses for a day.
Europe, too, continues to advance green hydrogen policies. Spain's low-cost renewable energy combined with the support of the Spanish government and European Union for zero-emission technologies provides a great environment for Accelera's new electrolyzer manufacturing facility. On track to begin operations at the end of the year, this facility is scalable to 1 gigawatt of manufacturing capacity and will help enable the energy transition for European customers.
More than 93 countries have adopted net-zero targets and more than 39 countries have hydrogen strategies, including countries in Asia, Europe and the Middle East. We operate in a global economy, and it's going to take global action to address climate change – something Accelera's multi-continent footprint enables us to support. 
When policies spur demand, Accelera can scale up as a technology and manufacturing leader. Our ability to quickly stand up electrolyzer manufacturing at Cummins' Fridley, Minnesota, site in just six months demonstrates our ability to serve the changing hydrogen landscape. This achievement drew attention from President Joe Biden, who visited in April, and U.S. Secretary of Energy Jennifer Granholm, who joined me just a few weeks later to celebrate the start of electrolyzer production at the facility.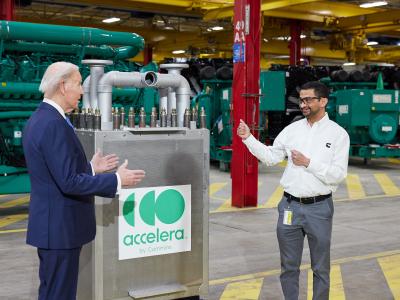 U.S. President Joe Biden, standing in front of an electrolyzer stack, visits the Cummins Power Generation Facility on April 3, 2023.
Commercial applications require specific technology solutions.
We're doing more than just tradeshows and hosting government officials—we're demonstrating the viability of electrified and hydrogen technologies in a multitude of applications. Our customers and partners are moving fast to test and incorporate these solutions into their operations to meet their own sustainability goals. Their feedback is consistent as they compare solutions: where systems are specific to the applications, they perform better.
Accelera is constantly evolving our products and enhancing our ability to meet customer needs. We've shared several exciting customer projects in recent months and seen performance of applications in the field that demonstrates our continued zero-emissions innovation:
The reliability of our electrified technologies: Since 2019, we've steadily put more electric school buses on the road as reliable, efficient, cost-saving alternatives for 

school districts

. At the beginning of 2023, we had 400 electric school buses in the field, and in March, we announced the planned deployment of 1,000 more with manufacturer Blue Bird. These buses join a variety of our other electrified applications in the field, like construction equipment, transit buses and light- and medium-duty trucks. 

The scalability of our green hydrogen production technology: We recently announced a 

90MW green hydrogen project

that will use our new HyLYZER®-5000—Accelera's largest proton exchange membrane (PEM) electrolyzer product to date, which can produce 10 tons of hydrogen per day – five times more hydrogen than any of our PEM products currently in use – and can accommodate the power needs for large-scale hydrogen production. This cutting-edge technology joins our other large-scale electrolyzer projects on the docket and in the field, like the 

world's largest PEM electrolyzer

currently in operation at 20MW.

The power and versatility of our hydrogen fuel cells: Accelera's zero-emission hydrogen fuel cell engines are being demonstrated and utilized in commercial operations in applications around the world. Our fuel cell technology is currently in heavy-duty drayage trucks, transit buses, trains, dump trucks, refuse trucks and, most recently, in a prototype emergency relief vehicle that can also provide stationary power for emergency response operations at disaster sites.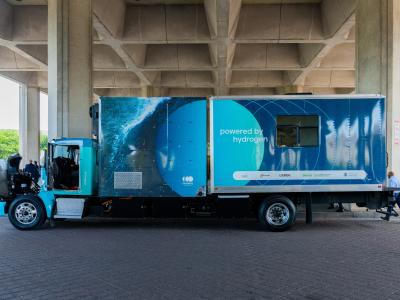 H2 Rescue truck, powered by Accelera's fuel cell technology, in Washington, D.C. on June 5, 2023.
None of this incredible progress would be possible without our team of more than 2,000 innovators across three continents, who deliver new breakthroughs every day. Their passion and determination is what motivates me to keep moving to ensure we successfully lead our customers through the energy transition. 
It's been a busy 100 days since we launched Accelera. But even in that short time, it is clear to me that the world is ready to embrace cleaner, greener power. Accelera is here to provide the technologies to make a lasting impact on our planet and create a sustainable future for generations to come.