International Women in Engineering Day: Celebrating a Team of Women Engineers
The MEA Core process development team at Accelera™ by Cummins is made up of all women engineers – an uncommon occurrence in this field.
Who needs superheroes when we have women engineers? On this International Women in Engineering Day, let's strap on our capes and plunge headfirst into the awe-inspiring world of these problem-solving powerhouses who bring innovation to life, project after project!
The MEA Core process development team at Accelera™ by Cummins is made up of all women engineers – an uncommon occurrence in this field. MEA, which stands for Membrane Electrode Assembly, plays a pivotal role in the manufacturing of fuel cells and electrolyzers (hint: this is where the chemistry happens!).
Setting the Stage: The Power of Representation
According to the U.S. Census (2021) and the World Economic Forum (2020), only 15% of the global engineering workforce was made up of women in 2020. At Accelera, we are firm believers in gender equality and bridging the gender employment gap holds immense significance. It is fundamentally a matter of parity and inclusion, ensuring all individuals have equal access and opportunities to pursue their passions, contribute their skills, and thrive in their chosen fields. 
Diverse perspectives drive innovation and drive progress. A more balanced and diverse engineering workforce that invites a wide range of ideas, experiences and approaches will help lead us to enhanced creativity, problem-solving and overall excellence.
Representation also plays a crucial role. When women see other women excelling in engineering, it inspires and encourages future generations, challenges stereotypes, and paves the way for societal transformation. By promoting gender equality and working to close the gender employment gap in engineering, we cultivate a more just and prosperous future.
Stationed at an Accelera site in Mississauga, Canada, the seven women of the MEA Core team is essential in scaling up activities for research and product and manufacturing validation for fuel cells and electrolyzers. 
Meet the All-Women Engineering Team
This group of women engineers come together from diverse backgrounds and disciplines, helping to break down barriers and redefine what it looks like to be an engineer.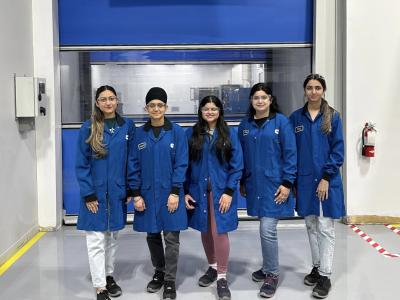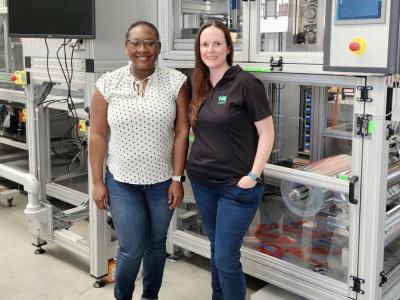 Jennie Eastcott: As the team lead, Jennie is an expert in MEA technology development for fuel cells and electrolyzers.  With a Ph.D. in materials science and extensive experience in hydrogen technologies since 2016, she has been driving innovation since joining us in 2018.
Kerrilee Steward-Thomas: The team's MEA scientist, Kerrilee is responsible for scaling up processes for PEM fuel cells and electrolyzers. With a Ph.D. in materials science and years of membrane experience, she joined our team in 2021, bringing valuable insights to our projects.
Radhika Arora: Radhika joined MEA Core in 2021 as the process engineering specialist. With a Bachelor of Science (BSc) degree in chemical engineering and a minor in management science, she leads engineering procedures, documentation, and process development.
Ramandeep Kaur: Ramandeep is a chemical process technician, supporting MEA development and scale-up activities. Joining the team in 2021 with a BSc and a diploma as a chemical laboratory technician, she plays a crucial role in driving our advancements.
Manpreet Kaur: As our material science engineering technician for electrolyzers, Manpreet is instrumental in supporting the MEA development for in-house production. Joining them in 2020 with a BSc in chemical laboratory technician, her expertise is vital to our success.
Sehaj Shaj: A chemical process research technician, Sehaj joined Accelera in 2021. With a BSc and a diploma as a Chemical Laboratory Technician, she supports the research and development of scale-up activities for fuel cells and electrolyzers.
Megha Maadan: Megha, the team's materials engineering technician, joined us in 2022. With her diploma as a chemical laboratory technician, Megha plays a vital role in supporting research and development scale-up activities for fuel cells and electrolyzers.
When it First Began: What was the motivation behind pursuing engineering?
For Kerrilee, her innate curiosity and desire to understand how things work drove her desire to pursue a career in this field. And as an amateur astronomer, she was led to materials chemistry, polymers, and nanomaterials.
High school STEM teachers introduced Jennie to multiple opportunities to solve engineering problems and real-life examples where she could exercise her problem-solving skills. 
For Megha, she has been interested in engineering since her childhood. Sciences have always piqued her interest; it has been her dream since then. 
Radhika said she held an affinity for solving complex problems and mathematics as a young girl, and it was through her internships that she developed a more profound interest in industrial operations and optimizations.
There's no "i" in TEAM: What was one of the most rewarding experiences for the team?
The team recently commissioned a new production line that was a complete team effort. Each team member had a role in set up, protocol development, training and quality control. It was a significant accomplishment for the team as they were able to transition from equipment delivery to the production of actual parts in less than five months. During the past year, they delivered their first in-house fuel cell stack. It represented a tangible gate check as they moved from concept to production.
Breaking Stereotypes: What misconception or stereotype do women face in this field?
When asked about stereotypes, the team agreed that one that pervades is the constant assumption that any administrative tasks should fall on the shoulders of women. While the MEA Core team members acknowledge that they are lucky to work in a supportive, inclusive team within Accelera, external interactions can often serve as a reminder there is still work to be done. 
Moving Forward: How has engineering evolved in terms of diversity and inclusion?
The population of women in engineering continues to grow. When a few of the team members first started college, very few women were in their engineering classes. Today, when the team reviews applications for interns, they see a rising percentage of women applying for engineering programs. 
Diversity and inclusion make the engineering field more innovative and successful as people from different backgrounds come up with other ideas and opinions. This helps in the overall development of a company or firm. The MEA Core team illustrates how the technical field is changing.
"We hope to see more and more women further themselves in this profession. Education is the only way to create a better future for all women in the world." – MEA Core process development team.
Keys to Success: What skills or qualities are essential for success?
Here's what the team said: innovation, curiosity, creativity, dedication and a systematic approach to problem-solving. But they also emphasized that to be genuinely successful in engineering, one should always be able to communicate clearly with a team to ensure the actual goals are clearly defined for everyone. At Accelera, engineers primarily work within teams to carry out large-scale projects. Being a good team player is always important.
Collaboration + Innovation: How does the MEA Core team foster collaboration?
The MEA team works hard to keep an open dialogue among all team members. Every issue is manageable for them to come together and brainstorm solutions. By planning things in advance with clear communication, listening to each other's ideas and perspectives, cooperating with each other and knowing each team member's strengths, they make sure that everyone feels included and appreciated. 
Inspiring the Future: What advice does the team have for young women considering a career in engineering?
If you have come this far, you are exceptional!
Never be afraid to express your ideas, and always be confident.
See your authentic selves as assets and be confident and bold when speaking up for yourself and others. 
Follow your passions! If you're interested in a topic or industry, look for people in that field and ask about their experiences and the most significant challenges today. 
And remember, the most important thing to grow in your career is always being curious.
This team of engineers is a reminder that engineering requires dedication, ambition and the ability to face challenges head on. So, here's to the women engineers who refuse to be confined by limitations and dare to engineer a future that surpasses all expectations.
Happy International Women in Engineering Day!